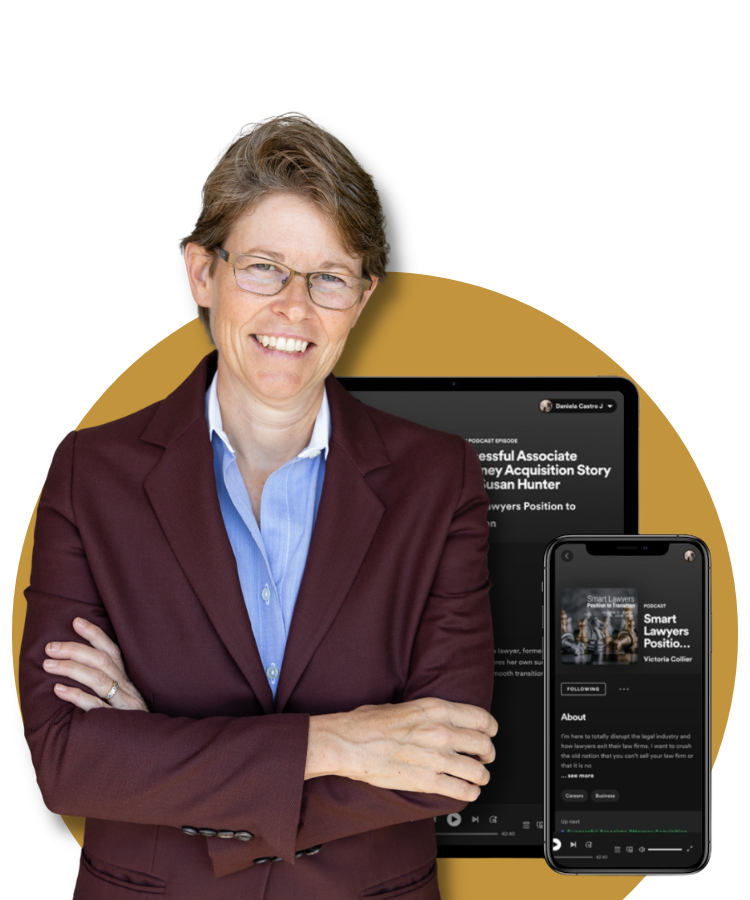 Smart Lawyers Position to Transition
Expert Insights on Selling, Positioning and Buying Law Firms:
Victoria Collier, QPQ CEO and host of our podcast, built and sold a 7-figure law firm in 2020, which helped her gain valuable insights on the ins and outs of the law firm market. In addition to sharing her story and advice on each episode, Victoria also chats with expert guests on a variety of topics related to the law field.
Our episodes help listeners build value in their law firms by providing actionable strategies and advice on how to create a well-run, efficient, and profitable operation.
"Life After Law" is a new segment that explores what life looks like after leaving a law firm. Tune in on the 4th Thursday of each month as we talk to guests who have made a successful transition to a new career or lifestyle, and learn from their experiences and insights on what it takes to make a successful change. 
New episodes are released every Thursday!
Our Most Listened to Podcasts
What our Guests + Listeners are saying!
"Victoria knows what she is talking about and offers valuable advice to anyone listening in."
-Guest, Nermin Jasani | Wildly Successful Lawyers
"This is a great resource for lawyers and I am so happy I had the opportunity to share my story."
– Guest, Jessica Medina | Former Lawyer now Accredited Financial Counselor
"Victoria and her team are a top notch provider of content that helps law firms create substantial and sellable value. If you are lawyer that wants more time, wants to create a successful firm that can operate with or without you, wants to create wealth for your family, then you need to subscribe to her podcast. I can't recommend it enough."
– Guest, Allen Rodriguez | Founder ONE400
Built To Sell With Best Selling Author, John Warrillow
With his expertise and as the founder of the Value Builder System, John sheds light on the challenges faced by service-based businesses, including law firms, in building a business that is sellable. 
The Value of Hiring the Right Staff with Brett Trembly, Co-Founder of Get Staffed Up
It's no secret that one of the keys to pivoting from an operator to a real business owner is having the right team. But how exactly do you do that?
High Connections Equal High Value With Ali Katz
Ali shares her inspiring journey from working in a prolific law firm to creating a successful law practice based on life-long relationships beyond legal advice.   
Resistance When Selling or Scaling a Law Firm with Millionaire Mindset Business Coach David Neagle
Millionaire Mindset Coach David Neagle is helping us work through the resistance that can arise when selling or scaling a law firm. 
Stream on Your
Favorite Platform!